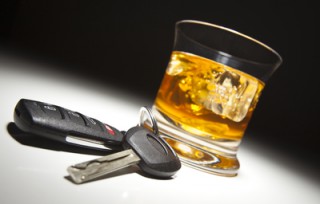 A Business Major, A Superb athlete, An aspiring model. Sean's perfectly set life was about to turn around on that fateful night.
It was the Saturday night before the Easter Sunday, 2005. Sean was drinking with his friends and was going home with a friend Ryan McDaniel. Sean knew he was too drunk to drive but so was Ryan who was dropping him home.

Ryan's car hydroplaned and crashed into a tree, he fled from the scene and Sean was left with a brain injury that left him unable to move, to take a bath, to simply walk or talk even. He had lost his voice also in the accident. Life-turned upside down for this 22 year old.

Jacqueline Saburido, a student from Venezuela had come to Texas to learn English during her college break. An Engineering student she wanted to help her father run his air-conditioning business , but first she wanted to learn English.

On the September 19 night she along with her friend Natalia Bennett and two others were headed home from a birthday party at Austin at 4:00 am. Before they could realize anything a car came and banged into their car head on. Natalia and Laura Guerrero died on the spot. Jacqui suffered from third degree burns in the crash- burns that scorched her eyes and made her blind, that melted away her hair, took her ears, nose, lips eyelids, fingers and rendered her hands useless.

Jacqueline is just not the same Jacqueline anymore. The accident left her physically deformed and mentally scarred forever.

Drunk Driving

Drunk Driving has become a massive threat to society, a threat that causes 17,000 deaths each year, 300 deaths each week and 45 deaths each day.

Alcohol induced accidents have become the leading cause of death for young Americans between the ages of 16 and 24.

Why do We Drink and Drive?

Drunk Driving starts with the false belief and intention, people assume of themselves that they won't drink too much.

From there it moves to overestimating one's capacity. Even one glass of any alcoholic beverage affects our motor and cognitive functions and then there are people who even after 4-5 round of drinks insist they can drive absolutely safely because they have driven safely earlier.

Why would we do that? Endanger our own and others' lives.
Yet we do that, because a drunk man who opts to drive understands neither limit nor capacity.

Peer pressure or overconfidence,whatever the reason, alcohol and driving make a deadly combination. Surveys reveal that males are more prone to drinking and driving than females.

What is scarier is that it is estimated that 3 out of every 10 Americans will be involved in an alcohol related incident in their lifetime.

Sean and Jacqueline were innocent victims, two faces in a sea of victims whose lives have been destroyed in an accident in which they had no fault but were paying a price because somebody else decided to drink and drive.

Drinking depresses your brain, you cannot function properly after drinking so:-

● Think from before what arrangements can be made when you know you won't be able to drive later.
● Getting a designated driver is a good idea.
● Knowing what your actual alcohol consumption limit is- practice with a few drinks (when you are not going to drive) before somebody close and responsible like a spouse, so you know exactly where to draw the line and when your ability gets impaired. Be true and realistic in your understanding.

What happens to a victim of Drunk Driving?

You can't recognize Jacqueline anymore-no nose, no ears, no hair, no lips, melted down skin-so little of that beautiful, ambitious teenager remains. Even after 100 operations post her crash her condition remains hardly altered.

Sean, the once dynamic athlete-model today depends on his mother for every little chore.

True Jacqueline and Sean are inspirations today with their courage and spirit for life, they are role models for many victims but does that give them back what they have lost?

Independence, dreams, aspirations...

The aftermath of these accidents involve deep physical and emotional turmoil for the victims. Like Sean's mother and Jacqueline's father, these victims also need the unconditional love and support of their loved ones to recover from the trauma and resurrect their life.

The Absolute Necessity of Legal Support

Under such circumstances, it becomes of utmost importance that you have a good and professional attorney who will ensure that the victim and the victim's family is paid the due financial compensation by the culprit for recovery, one who will have such a strong case that the defense won't be able to get the case against the drunk-driver dropped.

The expenses the innocent victim has to incur in a drunk-driving case is massive sometimes, so your experienced lawyer should be one

● With expertise, who can calculate accurately your financial requirements and present before the insurance company.
● Gather extensive evidence to show conclusively that you were innocent and the accident was the drunk driver's fault.
● Finally nullify any attempt to stop the victim from receiving the compensation because of some legal loopholes. He/She will fight the case passionately but professionally ensuring justice is delivered without a civil trial, but if push comes to shove, he should have such a thorough case that he can fight for your cause in the courtroom equally passionately and ensure you receive a fair judgement.